In Leather
Galerie Auslage shows Käthe Kruse's In Leather – a drum set in leather. The work references Kruse's object-like productions created in the 1980s for the group Die Tödliche Doris. Without the notion of nostalgia, she has transformed costumes and instruments into time-entangled artifacts for the new millennium. Stripped of the relic-character, they present themselves as artworks of their own originality.
In her early 20s, Käthe Kruse left her birthplace and hit the road. In a daring bus trip across Southern Europe, Turkey, Iran, she reached India and Nepal. She did not want to return to the tranquil Westphalian small town afterwards and settled in Kreuzberg, West Berlin, in 1981. Berlin allegorized a Europe divided into the Warsaw Pact and NATO; and West Berlin – with its abandoned, decaying buildings, coal stoves and dog excrement, its desolate economy, brutal drug scene, and surrounded by a wall – seemed to apostrophize the perpetual gray of the German 1950s, 1960s, 1970s, as if in an exaggerated caricature. But in the barren, rough confinement there was emptiness and space. Things were possible, as elsewhere they were not. One only had to take it into one's own hands to create one's own disorder out of the given disorder. The sky above the city was wide open, and West Berlin became a place of longing for western artists.
In December 1981, Käthe Kruse stood on the stage of SO36 as a black and gold angel and met Wolfgang Müller and Nikolaus Utermöhlen, who invited her to join Die Tödliche Doris; from then on, the three of them formed the core cast of the artist group that became a major player within the Genialen Dilletanten – the most experimental offshoot of the experimental Berlin post punk scene of the 1980s.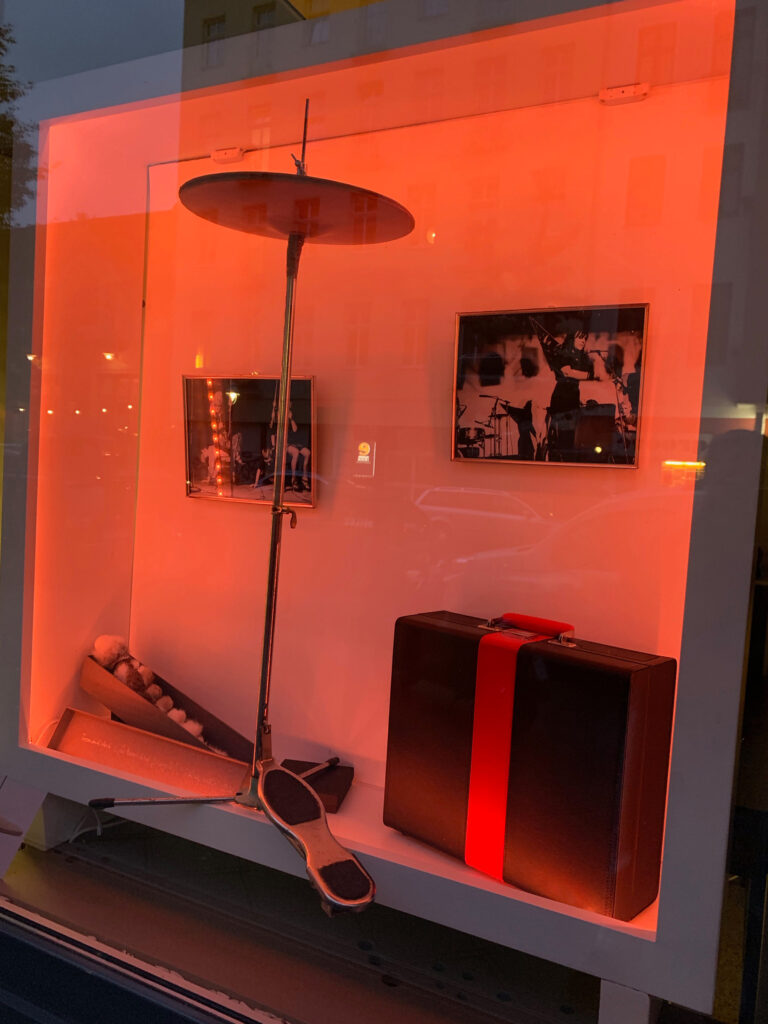 Depending on (self-determined) demands, the ensemble appeared sometimes as an art collective, sometimes as an acting troupe, sometimes as a band; interweaving music, text, performance, video, and painting, it developed new formats and laughed at given orders and at attempts to classify them into conventional categories. Die Tödliche Doris had appearances at MoMa New York, the Musée d'Art Moderne in Paris, or at documenta 8. It manifested itself in performative appearances and films, on sound containers – from vinyl, cassettes, or CDs to plastic toy records along with a player or an "invisible" album – , but also in media such as books, painting, a skin museum, and finally as wine – in which it (planned) to dissolve in 1987. 
Käthe Kruse has experienced this time, lived through it, survived it, she knows that these years have shaped her person and character, but she is far from romanticizing or glorifying the 1980s. She also knows about the pitilessness of the years and about the deceased companions. Possibly a certain kind of becoming  bourgeois saved her from this. She married the Swiss author Yves Rosset and has two daughters with him; she left her cooperative share in the legendary, formerly squatted artists' housing project in Manteuffelstraße and moved with her family around the corner, into the private sphere.
She has never given up her artistic work. In defined work cycles, Kruse works with different materials and media such as film, photography, painting or wool. She presents her works in room-filling installations, often extended by performances. And to a certain extent, as she has regularly involves her daughters Edda and Klara Kruse Rosset in these since 2011, she carries the private back into the public sphere. 
Music always plays a role, be it as with her 1997 album "Le Sexe Rouge," which she realized over years in an installation-like manner, song by song, or precisely with In Leder, her drum kit, which she transformed into a leather-covered object for a 2013/2014 exhibition at the Zwinger Galerie. In a performance, Kruse, dressed into a hanging, walk-in leather dress, again awakened the drum kit underneath the object – in a double reprise, the sound was now transformed.
Text: Andreas Reihse
BIOGRAPHIE
Käthe Kruse was born in 1958 in Bünde/Westphalia, she lives in Berlin since 1981.
From 1982 to 1987 she was a member of the group Die Tödliche Doris, with performances at MoMA, New York, Musée d'Art Moderne, Paris, Club Quattro, Tokyo or documeta 8, Kassel, among others.
From 1990 to 1997 Kruse studied visual communication at the Berlin University of the Arts; she graduated with a diploma at Bernhard Boes and was a master student with Heinz Emigholz.
Since 1987 solo exhibitions at Zwinger Galerie, Berlin, Kagan Martos, New York, Kunsthalle Bremerhaven, Galerie der Stadt Schwaz, Tyrol, Austria, among others Performances, among others, at Walcheturm, Zurich, at Gracia, Barcelona, at the Nationalgalerie im Hamburger Bahnhof Berlin, or at the Neuer Berliner Kunstverein.
In 2020, the double exhibition Ich sehe took place at Galerie Nord I Kunstverein Tiergarten and 366 Tage at Zwinger Galerie in Berlin. Accompanied by a catalog with double LP published by DISTANZ Verlag, Berlin.
Her solo exhibition Danke! Die Tödliche Doris she showed at Circuit, Centre d'Art Contemporain, Lausanne.
2021 Käthe Kruse received the PeterJacobiWerkPreis of the Peter Jacobi Foundation for Art and Design, Pforzheim, which was established especially for her.